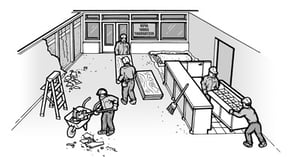 In designing a structure to meet the highest ADA building requirements for compliance with the Americans with Disabilities Act, the overall result can truly be said to be the sum of its parts.
Strict adherence to the smallest of details needed to meet regulatory standards reflects the workmanship in complying with the highest rigors to design an ADA-adherent edifice. Take handrails, for example—literally, if you like, take a tape measure to these elements to begin to understand the strict nature of ADA adherence.
Generally speaking, ADA guidelines call for handrails to be installed between 34 inches and 38 inches from the surface—that is to say, the ground, ramp or sidewalk. Many regulators recommend splitting the difference in case of any confusion, suggesting installation at the 36-inch mark.
Ah, but then it gets trickier when allowing for handrail surroundings. ADA guidelines place peripheral posts—vertical or horizontal—at no greater a height than of 8 feet. It is recommended that posts be placed every six feet from center to center to ensure compliance.
Handrails or grab bars, along with any adjacent wall or surface, must be free of anything sharp or abrasive. ADA building requirements also call for 3/16" holes to be drilled onto handrails in mounting them to their brackets. Affixing handrails and grab bars to their respective brackets disallows rotation.
To the untrained eye, adherence to such minor details into overall construction can easily be missed. Even without such mandates, Burnham Nationwide has built its reputation on paying attention to details large and small in designing projects to the highest of specifications. Think of Burnham as you plan your next design project. For further insight, it might be helpful to contact a Burnham specialist to see what they have to offer and how they can help you understand the ADA building requirements pertinent to your job site.
Adherence to ADA standards is crucial, heightening the importance of having a designing partner of the highest caliber. Since its inception, Burnham has built its reputation on adhering to the highest workmanship standards.
Beyond merely following the law, ADA compliance also is critical to a company's bottom line. Since ADA passage in 1980, a cottage industry of sorts has emerged centered on lawsuits filed for noncompliance. Much of this litigation revolves not around the ubiquitous ramps, but the less visible handrails that are central to ADA compliance. Retailers and restaurateurs have been especially hit with mounting litigation over inadequate handrails, as attorneys aggressively secure clients looking to file lawsuits in search of financial recovery. Sometimes, the pickings are easy. In one notable case in California, one plaintiff went down a stretch of highway to find noncompliance, filing 20- lawsuits in one 24-hour period as a result!
ADA noncompliance can result in thousands of dollars worth of fines. In terms of litigation, expenses could easily be exponentially greater. In another example, one plaintiff in Fort Pierce, Fla., was awarded $1 million in damages in 2010 after suing her apartment complex over a faulty handrail.
For the sake of your business, it is important to ally yourself with a reputable consultant that will save you time and money. If you want answers to your specific project questions - Ask us Anything. Contuine to following our blog for the latest industry updates and news.