Many municipalities limit construction or street closures during November and December to promote full access to retail stores, restaurants, and other businesses by the public. Depending on the location and type of work, your construction team may need to be prepared for schedule changes as a result of limits on construction activity, building permit approvals, or street closures during the upcoming holiday season.
Below, we've collected information from our main offices on 2018's upcoming holiday moratoriums so you and your team can best prepare for any schedule changes.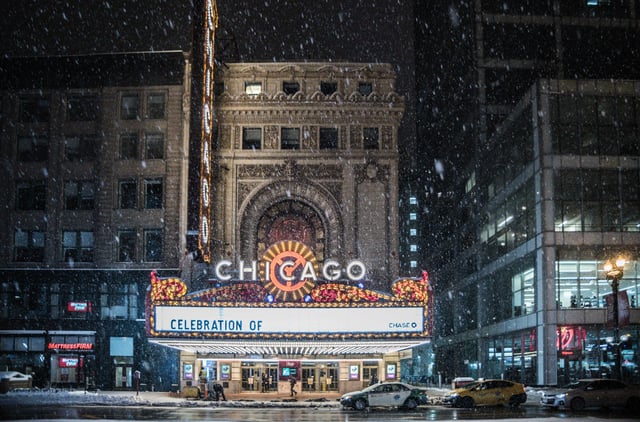 image by Rezal Scharfe
New York City


According to the New York City Department of Transportation (NYCDOT), this winter's Holiday Construction Embargo will limit work from 6 a.m. Thursday, November 15th, 2018 through 11:59 p.m. Wednesday, January 2nd, 2019.
The Holiday Construction Embargo prohibits all routine work on the street during the embargo period unless special approval is granted by the NYCDOT's Office of Construction Mitigation and Coordination (OCMC). The embargo does not apply to emergency work, however an emergency number must be obtained from NYCDOT prior to any exempted work.
No work can be prepared on the street during the embargo period without prior approval by the OCMC or issuance of an emergency number. A map of all affected locations are available here, as well as a list of holiday special event construction embargos.
City of Chicago
The City of Chicago Department of Transportation (CDOT) Office of Underground Coordination has issued this year's moratorium between eastern North Avenue to Lake Michigan, west on North Avenue to Halsted Street, south on Halsted Street to Roosevelt Road, and east on Roosevelt Road to Lake Michigan. No street openings or traffic obstructions are allowed in the designated area from Friday, November 16th, 2018 at 4 p.m. until Wednesday, January 2nd, 2019 at 9:30 a.m. unless issued emergency approval.
All existing permits are revoked during this time and any special permit exemptions must be approved by CDOT and the Division of Infrastructure Management - Permit Section. After January 2nd, 2019 through April 1st, 2019, work remains subject to snow removal/control rules.
City of Los Angeles
Yearly Holiday Restrictions are in effect from November 20th, 2018 to January 2nd, 2019 for selected streets within the City of Los Angeles - an interactive map with all locations is available here. During this time, the City of Los Angeles prohibits construction work in the public right of way including lane closures, unless the project is approved for a Holiday Moratorium Exemption (HME.)
Any HMEs must be approved by the Los Angeles Bureau of Engineering, the Department of Transportation, and the local Council District for the project location. Exemptions must be applied for with a sufficient window of time for review and possible approval.
City of Denver


This season, the City of Denver's Holiday Construction Moratorium is in effect from November 22nd, 2018, to January 1st, 2019. The City of Denver will not issue right of way permits for new construction work during this time for critical retail locations in the Central Business District (downtown), Cherry Creek North Business District, Stapleton/Forest City retail areas including the Shops at Northfield, North Tennyson Street Business District, and the Lower Highlands Business Area at 16th and Central Streets.
There will be no new permits issued for street, alley, sidewalk, and parking lane closures for the duration of the moratorium period, and no street closures on adjacent roads will be permitted. Applicants must resubmit permit applications for projects in these areas after January 1st, 2019 to proceed with construction.
Exceptions to the moratorium may be approved on a case-by-case basis by the City Traffic Engineer depending on the nature of the project.
City of San Francisco


The yearly City of San Francisco Holiday Moratorium is in effect from Thursday, November 28th, 2018 through January 1st, 2019 between the hours of 7 a.m. and 10 p.m in downtown San Francisco and any areas zoned as a business block.
"Business block" is defined as "a block in which at least 50% of the linear frontage is devoted to business, and establishments in this category are retail stores, bars, restaurants, banks, service type businesses, non-residence type hotels, wholesale businesses, and others as determined" according to the City.
Waiver requests are permitted, however approval by the San Francisco Municipal Transportation Agency (SFMTA) and adjacent property and business owners is required. SFMTA approval must be obtained prior to contacting any members of the public.
City of San Jose
The City of San Jose's Holiday Restrictions are in effect from November 22nd, 2018 through January 9th, 2019. No street or lane closures are permitted in the downtown area bounded by Bassett Street, Little Market Street, Julian Street, 11th Street, Highway 280, Stockton Avenue, The Alameda, Cahill Street, San Fernando Street and Delmas Avenue as per the City's memo.
Streets near shopping centers are also subject to restriction, including Capitol Square, Eastridge, Oakridge, Valley Fair and Santana Row, and Westgate and El Paseo Center.
This information may be subject to change - we'll be updating this post with any new information is available. As always, our offices are available to answer any questions on moratorium procedures or to assist with the application process for waivers throughout the country.