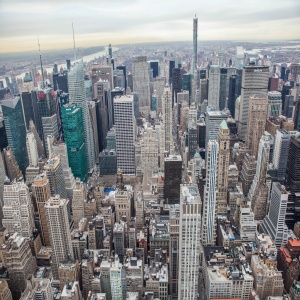 As 2015 comes to a close, we're looking ahead to construction trends that will affect the industry in 2016. While no one can predict the future, with the help of the Emerging Trends in Real Estate report from PWC and Urban Land Institute we've put together a list of eight trends that we think will affect the construction industry next year.
In order to keep up with growing global populations, expect to see trends that affect city life including urbanization, decreasing driving rates, housing changes and infrastructure updates. There will also continue to be a strong trend towards sustainability and green energy. Finally, we predict that the use of technology will continue to help improve efficiencies at construction projects across the country.
1. Urbanization
Accenture is predicting a 20% increase in the global population by 2020. With that increase comes the emergency of the megacity, or cities with populations greater than 10 million. There are 23 megacities projected for 2015. This will boost global construction markets, with opportunities for strategic integrations across traditional infrastructures.
2. Parking
People 34 years old or younger have reduced the miles traveled by car by 23%, according to the United States Department of Transportation - Federal Highway Administration. Additionally, the percentage of high school seniors with a driver's license dropped from 85% to 73% between 1996 and 2010, according to the American Automobile Association. With driving rates decreasing, parking is no longer a good use of land, especially in large urban areas. While the trend to reduce parking in urban areas may take years to fully develop, it's important to keep in mind as new construction is developed.
3. Housing
Economic and demographic factors will continue to affect the housing market. It will be imperative in 2016 to construct affordable housing options to meet the needs of both baby boomers and millennials. The small living trend will also grow, increasing new construction of micro-apartments and small homes. Micro-apartments will help the affordable housing market by offerings residents a less expensive option in high-demand urban areas.
4. City Infrastructure
In 2016, Cities are continuing to tackle infrastructure issues, including developing creative solutions for public transportation, green energy and vehicle and pedestrian traffic.
5. Sustainability
Expect new construction to continue incorporating sustainability practices into their plans for 2016 and beyond. Energy conservation is also becoming more popular, driving the need to incorporate high-efficiency heating and cooling systems, LED lighting, low-flow plumbing fixtures and water conservation processes. There will also be growth in the demand for sustainable water and waste management.
6. Energy
Industry trends suggest that consumption of renewable energy will grow faster than primary energy in 2016. Accenture is predicting a 30% increase in energy by 2030, so there is an overall need for broader, more efficient energy infrastructures. With the move into renewable energy, construction businesses will find ample growth opportunities to diversify within the energy landscape.
7. Technology
Construction technology continues to evolve every year. In 2016, look for improved efficiencies with better communication in the field via smartphones, tablets and laptops. Apps, like the BurnhamEYE, will continue to develop to make it easier to monitor and approve inspections as well as monitor maintenance items.
8. Office Industry
The office industry has seen steady growth as employment numbers improve. In particular, coworking spaces have become a major trend in some larger, urban markets. In 2016, both redesigning traditional office spaces and constructing new coworking spaces are expected to make an impact on the construction industry.