Accessible means of egress are a critical component of compliance with the Americans with Disabilities Act (ADA) and the 2010 Standards for Accessible Design (2010 ADA Standards), the rules implementing the portion of the ADA (Title III) prohibiting places of public accommodation and commercial facilities from discriminating against people with disabilities. To meet the ADA's requirements for accessible means of egress, it is necessary to also be aware of the applicable standards of the International Building Code (IBC), the International Code Council's model code that is adopted by many jurisdictions.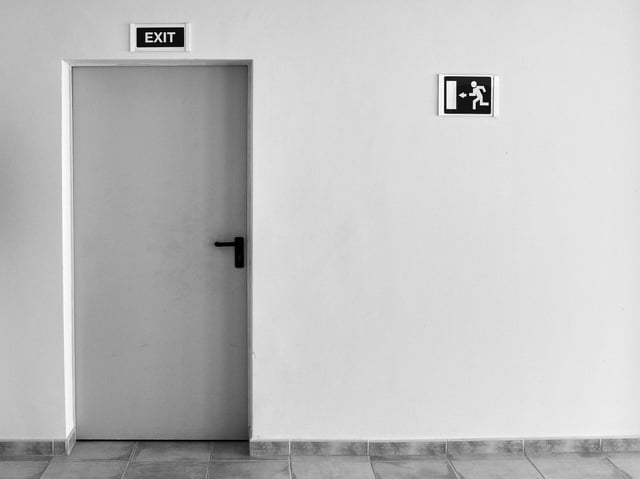 Photo by Michael Jasmund
Relationship to IBC
Section 207 of the 2010 Standards governs accessible means of egress and requires compliance with the International Building Code. Specifically, buildings must have accessible means of egress following the standards in IBC Section 1003.2.13 (2000 edition and 2001 supplement) or IBC Section 1007 (2003 edition).
In addition to following the noted IBC sections, compliance with other sections of the 2010 Standards is necessary for some of the components of an accessible means of egress.
Means of Egress
According to the IBC Section 1002 (2003 ed.), an accessible means of egress is: "A continuous and unobstructed way of egress travel from any accessible point in a building or facility to a public way." The IBC's definition highlights three components of a means of egress:
Exit access - the path to the exit;

Exits - the door or other exit; and

Exit discharge - the path leading away from the building to a public way.
The IBC requires at least one accessible means of egress from an accessible space. When the IBC requires more than one mode of egress from an accessible area, then there must be at least two accessible means of egress unless an exception applies, e.g., alterations to existing buildings.
Components of Accessible Means of Egress
In addition to directly connecting to a public way, the IBC has specific requirements for each of the components that may comprise an accessible means of egress.
Accessible Routes
According to the IBC, the path that is part of the accessible means of egress must comply with IBC Section 1104 governing the location of accessible routes. However, Section 206 of the 2010 Standards also contains scoping requirements for accessible routes that cover many of the same points as IBC Section 1104 but are more detailed and must be cross-referenced for additional requirements, exceptions, and advisories. Given the 2010 ADA Standards are federal law, they must be followed unless the state or local jurisdiction has more restrictive requirements.
Accessible routes must be provided from a site's arrival points; connect a site's accessible buildings, facilities, elements, or spaces; connect to each portion of an accessible building as well as points within a building, accessible entrances, and the public way; and should connect each required accessible level of a multistory building. However, some exceptions apply and there are more detailed requirements for specific areas and uses.
Chapter 4 of the 2010 Standards contains the detailed technical requirements for accessible routes that must be followed for accessible means of egress. The chapter includes the standards for walking surfaces, doorways, ramps, curb ramps, elevators, and platform lifts.
When designing and constructing accessible means of egress, it is also important to be aware of the ADA's requirements for protruding objects in circulation paths found in Sections 204 and 307 of the 2010 ADA Standards.
Enclosed Exit Stairways
Enclosed exit stairways must be at least 48 inches wide between handrails when provided as an accessible means of egress. Additionally, the exit must also contain an area of refuge or can be accessed from a refuge area or a horizontal exit. Where the stair is entered from a horizontal exit, the clear width of 48 inches is exempted. The area of refuge and the 48-inch clear width between handrails are not required when the building is fully sprinklered.
Additionally, stairs must comply with the Section 504 of the 2010 Standards. This includes requirements for tread height ( 4 - 7 inches) and riser depth (11-inch minimum), stable and slip resistant surfaces, nosing dimensions, and the prevention of water accumulation.
Stairways must also follow the handrail requirements of Section 505 of the 2010 Standards. Handrails must be provided on both sides of the stairs along the entire length of the staircase. Also, the handrails must be at the same height throughout and the top of the gripping surface must be between 34 to 38 inches above the walking surface with a clearance of at least 1 ½ inches between the handrail and adjacent surface.
Section 505 also has specific requirements for handrail dimensions and handrail extensions. To understand these requirements, see our post on ADA handrail requirements.
Elevators
An elevator is required to be used as an accessible means of egress when a floor is four or more stories from the building exit (above or below). If there is an automatic sprinkler system throughout the building, an elevator is not required on floors where there is a horizontal exit at or above the building exit or there is an IBC Section 1010 compliant ramp.
Elevators must comply with the Safety Code for Elevators and Escalators, ASME A17.1, Section 2.27 governing emergency operation and signaling devices. Additionally, standby power is required for elevators that are part of the accessible means of egress and must comply with IBC Sections 2702 and 3003, the standards for emergency and standby power.
Access to the elevator must be from an area of refuge or a horizontal exit unless the elevator is in a building with an automatic sprinkler system or in an open parking garage.
Platform Lifts
Platform lifts for wheelchairs may only be used as part of an accessible means of egress for the select purposes outlined in IBC Section 1109.7 such as an accessible route to meet the wheelchair space dispersion requirements, to spaces not open to the general public and having an occupant load of five or fewer, in a dwelling unit, or where a ramp or elevator is infeasible given exterior site conditions
Standby power must be provided for platform lifts in an accessible means of egress and they must be installed following the requirements of ASME A18.1.
Areas of Refuge
An area of refuge must comply with a variety of requirements unless the area of refuge falls under the exemptions found in Section 1007 or other IBC sections. The following highlights some of the standards for areas of refuge:
The distance between an area of refuge and an accessible space should not be greater than the travel distances prescribed by IBC Section 1015.1 (based on occupancy class);
An area of refuge must be directly accessible to an IBC compliant enclosed staircase or elevator;
An elevator lobby used as an area of refuge must comply with the IBC's requirements for smokeproof enclosures (IBC Section 1019.1);
The area of refuge must be at least 30 inches by 48 inches (one wheelchair space) for every 200 occupants and may not be obstructed unless by another wheelchair space;
A smoke barrier must protect the area of refuge unless it is in a stairway enclosure or in an area with an automatic sprinkler system;
A two-way communication system with both audible and visible signals must be provided to allow for the area of refuge or elevator lobby to connect to a central control point; and
Instructions must be posted next to the communications system with the information detailed in IBC Section 1007.6.4; and
Any door to an area of refuge from an adjacent floor area must be designated with an ICC A117.1 compliant sign that: states "AREA OF REFUGE", displays the International Symbol of Accessibility, provides illumination when required by the IBC, and includes tactile signage.
Areas of refuge are often exempt from many of the above requirements because they are in fully sprinklered buildings.
Other Requirements
The IBC requires the posting of signs showing the location of accessible means of egress at accessible space's exits and elevators if they are not part of an accessible means of egress. It is also important to be aware of the ADA's detailed signage requirements found in Section 703 of the 2010 Standards. For a better understanding of some of the ADA's signage requirements read our post on the subject.
Exterior areas used for assisted rescue are required to be open to the outside and meet the same size requirements as an area of refuge. There are specific standards for the walls next to the exterior area of rescue such as fire-resistance rating requirements.
Steps must be taken to minimize smoke and toxic gases from concentrating in the rescue area. There must be 48 inches between handrails for exterior exit stairways serving these rescue spaces. Exterior areas for assisted rescue must meet the same signage requirements as those for areas of rescue.
Checking Local Accessibility Standards
It is essential to always check the state and local requirements. State and local accessibility standards, may, for example, incorporate later versions of the IBC than those referenced by the ADA's 2010 Standards. If these requirements are more restrictive than the federal regulations, they should be followed.
Our blog post highlights some of the ADA's requirements for accessible means of egress. It is important to be aware that to properly navigate the complex accessible means of egress standards requires the assistance and advice of a consultant with expertise in accessibility compliance.