ADA turns 30: Celebrating the positive impact and its evolving role


2020 marks the 30th anniversary of the Americans with Disabilities Act (ADA) becoming Federal Law. This groundbreaking legislation has impacted the lives of people with disabilities in the United States by working to prohibit discrimination in areas including employment, transportation, public accommodations and communications. The important national changes and standards are achieved and enforced through the federal government and left for interpretation by state and local government programs and services.
Throughout the year, we will touch on how an ADA Compliance Review can help your overall building design, deep dive into the more complex chapters of ADA, IAC, and lend insight to changes that will be taking place in the future.
Prior to ADA legislation, people with disabilities were often subject to discrimination and access restricted by the nature of design for many able-bodied areas. For example, the majority of restrooms were not accessible causing people to come prepared with alternative methods or risk injury attempting to use restrooms. Buildings, public transportation and places of employment lacked the necessary resources for people with disabilities that created barriers for everyday life. It would take organization, protests and lobbying before their concerns would be understood by policymakers and the public.
The Start of Something New
1970's - Change towards better rights started with the 1973 Rehabilitation Act, Section 504; which prohibits discrimination against people with disabilities in programs that receive federal financial assistance. It was modeled after previous laws that touched on race, ethnic origin and sex-based discrimination. This decade focused on defining and outlining proposals and effectively enforcing the new and existing regulations, which would be the base that helped form the ADA.
1980's - Although Section 504 was in place, there were still disability cases going through the Supreme Court; many of which were overturned with the help of the disability rights community. During this decade, people within the disability community were lobbying and advocating for protection against discrimination to others with disabilities. They worked to give voices to those that had none in the past and spread public awareness. In 1988, the first version of the ADA was introduced by the National Council on Disability. Witnesses from across the country shared their experiences; ranging from physical and figurative barriers to prejudice. The ADA Act passed the senate in 1989 and was sent to the House, where it went through the final stages of debate and reaching final approval.
1990- On July 26, 1990, President George H.W. Bush signed and passed the Americans with Disability Act.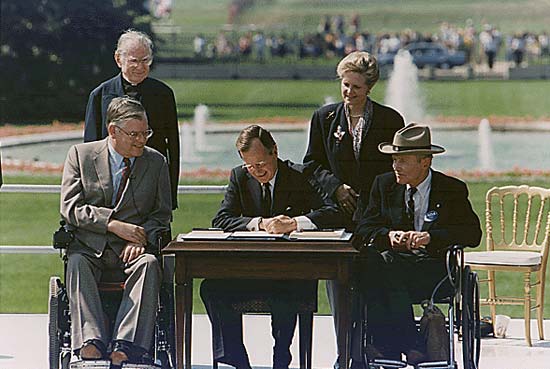 Image courtesy of britannica
Today - Since it's passing in 1990, various areas of the act have been well implemented, while other areas are still struggling to enjoy the same success. People with disabilities are still fighting for better rights and accommodations across the country. At Burnham Nationwide we are experienced at conducting ADA compliance reviews, and have a dedicated team of building code compliance experts that can ensure your project is federally and locally compliant with accessibility standards - or even exceed those standards. We work with clients at the local, state and federal level to make sure buildings are properly outfitted and accessible by directly communicating corrections with design and construction firms on the project, to make everyone's lives safer.
Want to make sure your project is ADA compliant? Reach out to our team.