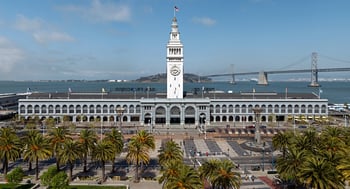 It's no surprise that San Francisco, California is just one of the latest cities to be experiencing a construction boom. We all know the notable landmarks, like the Golden Gate Bridge, cable cars, and the former Alcatraz Federal Penitentiary, that reside in San Francisco, but you may not have known that San Francisco is also home to some major tech giants. Salesforce.com, Dropbox, Airbnb, Yelp, Pinterest, Twitter, Uber, and Craigslist all have a San Francisco office. As more tech companies expand their locations away from Silicon Valley, the construction demand for space in San Francisco has skyrocketed.
Enter our newest office location: Burnham San Francisco
About 50 miles north of Silicon Valley, and over 300 miles north of our Los Angeles office, we are putting down roots in Northern California. The bay area as a whole has seen a major construction boom in the past couple years. With many of our Southern California clients needing permitting services in Northern California, we felt that this was the right time to jump into the Bay Area market.
Each of our Burnham offices has strong core leadership, and we wanted the San Francisco location to be no different. To achieve this, we knew we had to assign the duty of spearheading the San Francisco location to someone who already had experience 'Simply Getting It Done,' and was familiar with California permits. I met both criteria, plus having family in the Bay Area, it was a natural fit for me to make the move.
I grew up in a construction environment with many members of my family working for either designers or contractors. I was taught at an early age the importance of construction deadlines, being cost effective, and team communication, all of which have helped me with my position at Burnham Nationwide.
My Favorite San Francisco building
The Ferry Building, this is an iconic San Francisco destination. Obviously I did not work on it as it is over 100 years old but our office is located extremely close to its location. The goal is for Burnham San Francisco to be involved with a project that leaves a similar lasting impression on the city as the Ferry Building has.
As I gain familiarity in and around the Bay Area I am excited to continue to expand the San Francisco team. We recently hired a Bay Area native to join me in San Francisco, which has definitely helped me get more familiar with Northern California! If you want to lean more about Burnham's newest office location, or if you have a question for me, don't hesitate to reach out.