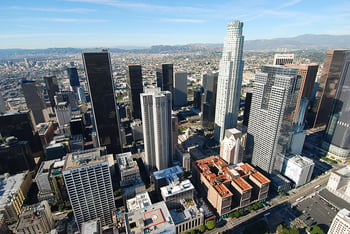 Recently news broke that Michael LoGrande, Los Angeles' planning director, was leaving his position. LoGrande has decided to become a private land use consultant, and is departing from the Planning Department on good terms. LoGrande became the director of L.A.'s Planning Department in 2010, and since has almost doubled the department size, managed a positive budget and "transformed the Los Angeles skyline". His resignation surprised many due to his major accomplishments while in the position.
Los Angeles Mayor Eric Garcetti has already nominated a candidate to replacement to run the city's Planning Department; Vince Bertoni, head of Pasadena's Planning and Community Development Department. Bertoni comes from a position in Pasadena where they focus on community sensitivity and neighborhood integrity, which is important to preserving the landscape and future of Los Angeles. Bertoni's nomination must be approved by the City Council to become official.
As downtown Los Angeles continues to expand at a rapid pace, it is exciting to get fresh ideas in the planning process. We are looking forward to seeing how the change in the planning department will affect development. If you have any questions please don't hesitate to reach out to us.