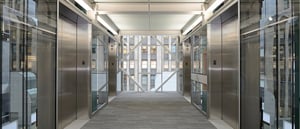 When constructing or renovating a building, it is very important to be aware of ADA requirements. These requirements are quite specific and ensure that physically disabled people are able to access all parts of the building. Keeping ADA building requirements in mind when planning the construction or remodeling will help you to get a permit faster and avoid having to redo a large portion of the work. Following is a quick overview of important ADA requirements regarding elevators.
Specific Requirements
Every building that is over three stories in height must have at least one elevator. Large buildings may have a service elevator; if this building is only for employees, then it does not necessarily have to meet ADA requirements regarding wheelchair space. However, all other elevators in the building must have a 54" depth by 80" width. In short, there should be enough space for a wheelchair-bound individual to enter, maneuver to reach the controls, and then exit the elevator.
The call buttons must be either raised or flush, and they have to be at least three quarters of an inch in diameter. Furthermore, the buttons both inside and outside of the elevator must be within the reach of a person who is in a wheelchair or power scooter. All public buildings are also required to have raised and Braille floor designations on both jambs.
The elevator must stay open automatically for at least three seconds and the two-way communication device in the elevator cannot be more than 48" from the floor. There must also be both a visual and audible signal indicating that the elevator has reached a designated floor. This signal must also indicate which elevator is answering the call.
Staying abreast of all the ADA building requirements can be a challenge. However, we can help you review building plans and make sure that the elevators and other aspects of the building are ADA compliant. We specialize in providing services of this nature and can ensure that the plans for the construction or renovation of a building meet all ADA requirements.