Chicago Construction Moratorium 2022


The holiday season is fast approaching, and Chicago, with many major municipalities, typically issue a temporary moratorium for activities affecting the public way to promote full access to stores, restaurants and businesses. This year the Chicago Department of Transportation (CDOT) has set the dates and boundaries per official memo issued by Deputy Commissioner Jai Kalayil, Department of Transportation, Division of Infrastructure Management.
Friday, November 18, 2022 4:00 p.m. - Monday, January 2, 2023 at 9:30 a.m.
*Post Moratorium Considerations below
What type of work is effected:
"No street openings or traffic obstructions, except for emergencies, shall be allowed within the [moratorium] boundaries."
"All existing permits within the moratorium boundaries will be automatically revoked. Restrictions will not be lifted for any non-emergency work without permission from CDOT's Permit Office."
Moratorium Boundaries:
"Beginning at the easternmost point of North Avenue extending to Lake Michigan, west on
North Avenue to Halsted Street; then south on Halsted Street to Roosevelt Road; then east on Roosevelt Road to its easternmost point extending to Lake Michigan."
*Post Moratorium Considerations:
"Any work performed from January 2, 2023 through April 1, 2023 shall be subject to criteria acceptable for snow removal and control operations. Specifically, all plates in the public right of way must be collected prior to the commencement of snow operations. If plates cannot be removed, or new plates must be installed, please immediately notify the snow operations unit by phone (312) 746-8630 or fax (312) 744-2808"
*NASCAR "Chicago Street Race"
"CDOT will enact a moratorium within the footprint of the race course on January 2, 2023. The Chicago Street Race moratorium will be in effect immediately following the Holiday Moratorium and implement the same restriction as the Holiday Moratorium. *See proposed course below
Put us to work for you:
Burnham Nationwide is here to answer questions on moratorium procedures or to assist with the application process for waivers in our offices. Please contact Steve Rodriguez by email or call us at 312-407-7990
Proposed Course Layout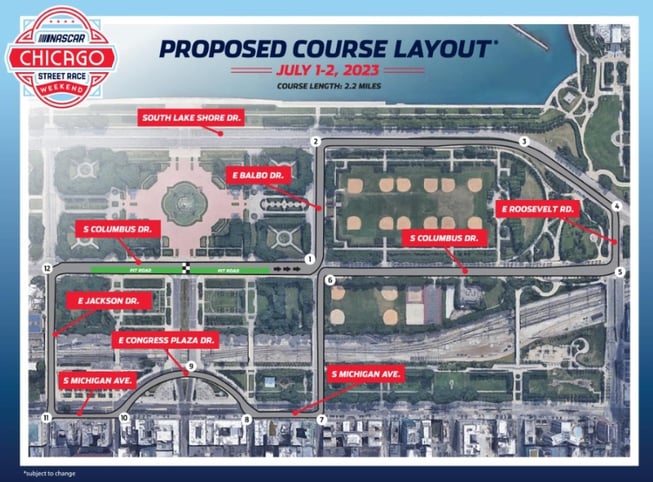 *Source "The Chicago Street Race Moratorium" Memo issued 13 Oct 2022