Dissecting the Modernized Chicago Building Code: Administrative Provision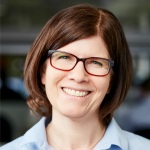 When the City of Chicago proposed to update their building code; the was goal to better align the construction requirements with up-to-date model codes and standards used in other major US jurisdictions, while maintaining long standing local requirements that are adapted to unique Chicago conditions. This revision has taken 40 years to get to and another 20 years to finally be implemented.
For your consideration
Some key notes to take into consideration when preparing for the new ordinance:
Italic

text - defined term (aligning with I-codes)

Blue text - Chicago ordinance
Blue italic text - term defined in Chicago ordinance
Building code IS NOT Zoning ordinance
Administrative Provisions
The new Administrative provisions is our guide to the Chicago Construction codes located in– Title 14A (pg. 2). This will take effect on July, 1 2019. These provisions will state how to use and understand the rules of the codes. It will provide information regarding requirements for permit application, what needs to be included on plans when permits are issued, explaining how inspections work and noting special approval processes, as well as fees for these.
The new construction requirements will be located in Chicago Building Code - Title 14B (pg. 161) which is an introduction page into the new code. You will find Rehabilitation requirements for renovation, addition, remodeling in Title 14R (pg. 611) which is based on the existing International Building Code.
The new administrative provisions will make it easier to look at requirements prior to going into the building code, better preparing the user.
We've created an easy to read table of contents for the Administrative Provisions.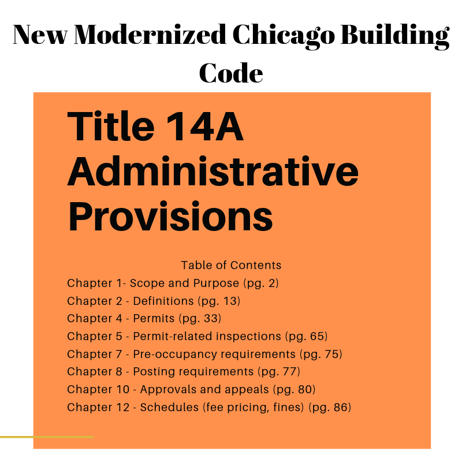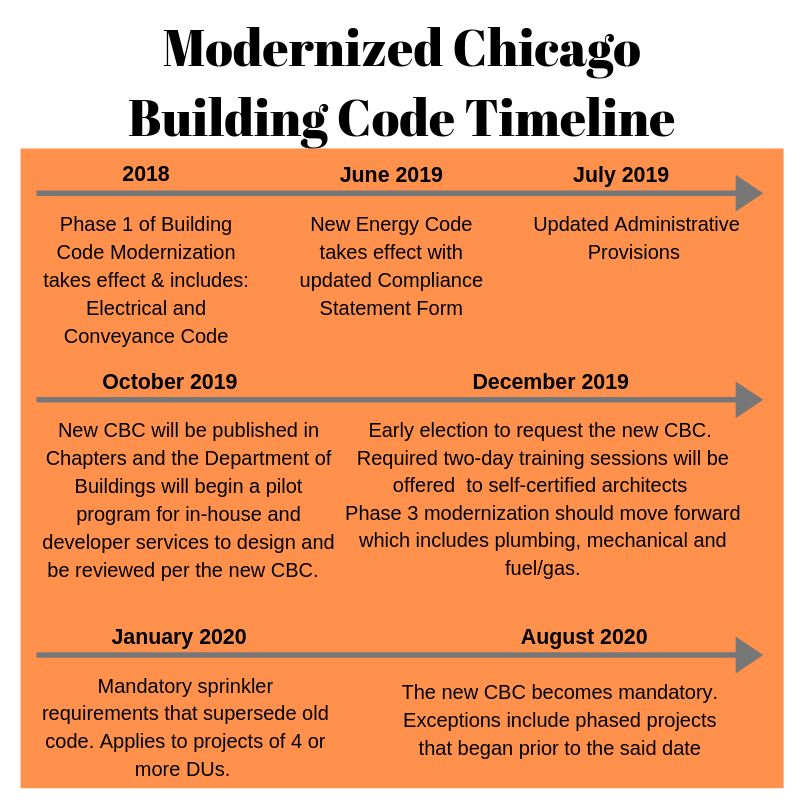 Follow us as we discuss the revisions, additions, and deductions to the new CBC. Interested in learning more? Reach out to our team.