Chicago Construction Moratorium 2020


Across the country, municipalities limit construction activity, building permit issuances, or street closures during certain dates and times through November and December. This is done to promote full access to retail stores, restaurants and other businesses by the public. This year, the Chicago Department of Transportation (CDOT) has reduced the parameters due to the reduction in holiday activities. This provides contractors an opportunity to complete work in areas that would've otherwise be heavily trafficked.
The City of Chicago Department of Transportation (CDOT) Office of Underground Coordination has issued this year's moratorium beginning at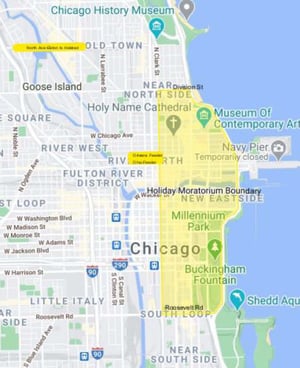 The easternmost point of Division Street, extending west to Clark Street. South on Clark Street to Roosevelt Road. East on Roosevelt Road to its easternmost point extending to Lake Michigan.

North Avenue between North Elston Avenue and North Halsted Street

Streets within the vicinity of the Ohio and Ontario feeder ramps, such that work on
those streets would impede ingress or egress to the feeder ramps.
No street openings or traffic obstructions, except for emergencies shall be allowed within the designated area from Friday, November 20th, 2020 at 4 p.m. until Thursday, January 4th, 2021 at 9:30 a.m. unless issued emergency approval.
All existing permits are revoked during this time and any special permit exemptions must be approved by CDOT and the Division of Infrastructure Management - Permit Section. After January 4, 2021 through April 1st, 2021, work remains subject to snow removal/control rules.
As always, the Burnham Nationwide team is available to answer any questions on moratorium procedures or to assist with the application process for waivers in our offices throughout the country.