The Three Different Types of Chicago Plan Reviews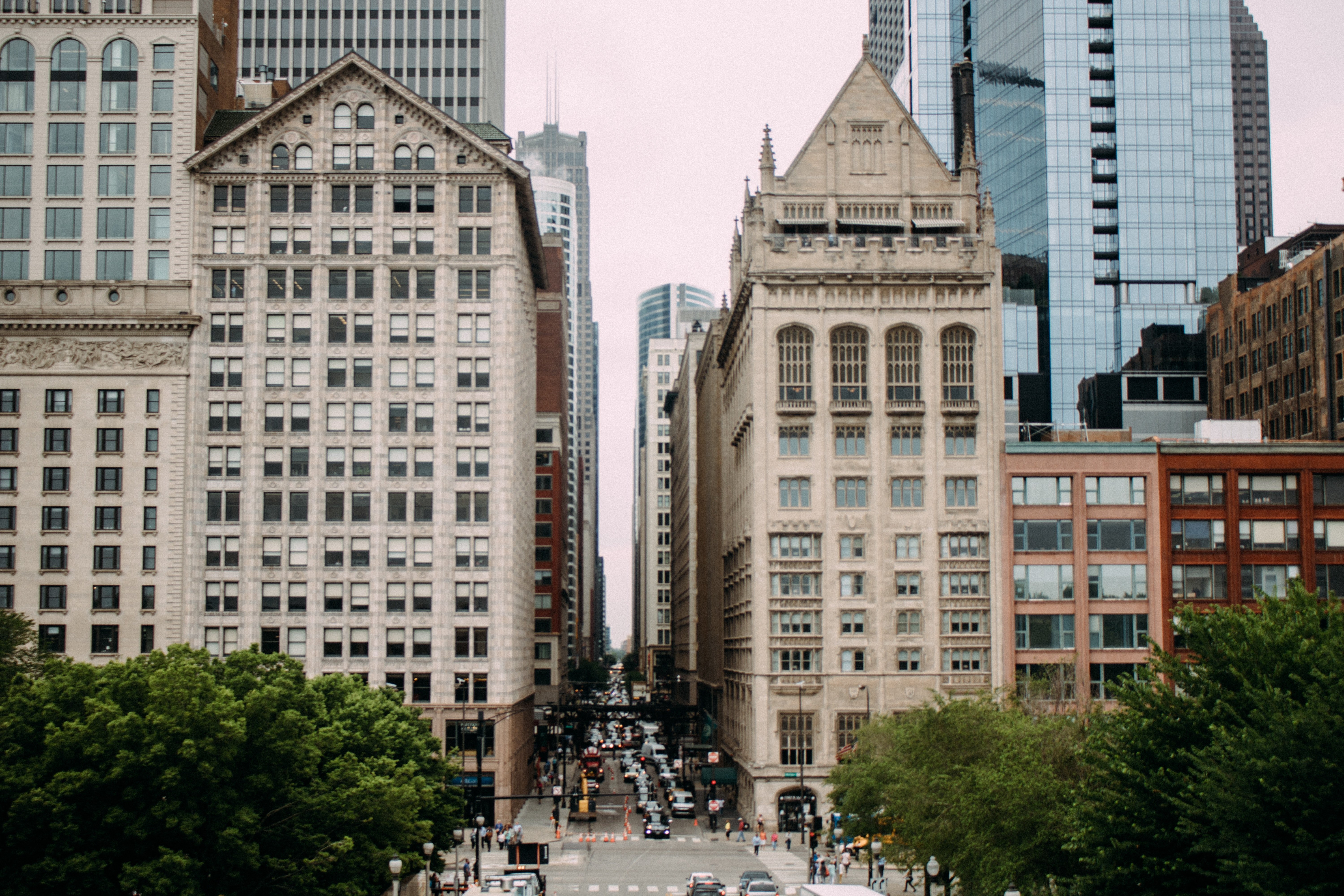 The City of Chicago Department of Buildings (DOB) offers multiple plan review tracks for residential, commercial, structural, and major development projects within the City of Chicago. Each review process is designed to expedite construction projects of various scopes and complexities and provide design and construction teams with the most efficient service per project type.
As of 2021, the City currently offers three different plan review tracks - the Easy Permit Process, Standard Plan Review, and the Developer Services Program. Direct Developer Services, a track designed for complex projects or major developments, was introduced in 2016.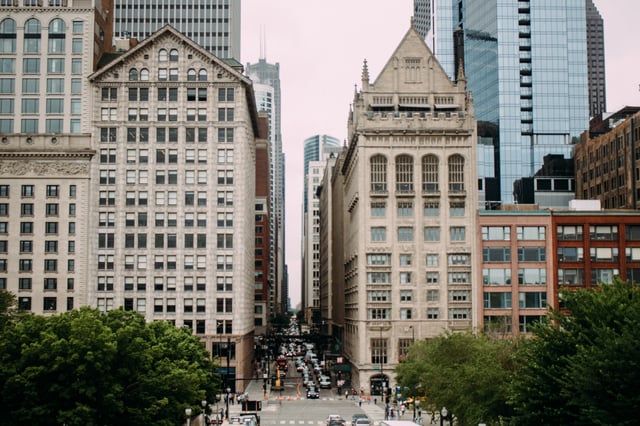 image credit: Fineas Anton
Easy Permit Process
The DOB provides submittal via the Easy Permit Process (EPP) for simple residential and commercial projects, most often "repair-or-replace" permits for trades such as electrical work or replacement of doors.
Example projects that qualify for the Easy Permit Process include:
Drywall Replacement over 1,000 square feet
Door and Window Replacement
Replacement of Gas Furnaces (Commercial Only)
Replacement of Existing Plumbing Fixtures
Electrical Work
Scaffolding
Fences
Porches
Masonry Work
Submittals for electrical work (completed by a licensed electrician), tuck pointing, installation of fences (not chain link or brick), residential furnace replacement, hot water heater replacement, construction of wood-framed garages, and window and door replacement are eligible for online submittal. All other submittals must be filed in person at DOB and include listed licensed contractors (as applicable), the project's scope of work, and all required forms.
Final Review is completed by the DOB staff same-day and the permit is paid for at the Department of Revenue counter once ready for issuance.
Standard Plan Review
The majority of commercial and residential projects qualify for Standard Plan Review (SPR), the core review track at the Department of Buildings. SPR encompasses a variety of projects including new construction, interior alterations and tenant finish projects, and excavation projects.
Projects that qualify for Standard Plan Review include the following:
New Construction (Commercial and Residential)
Interior and Exterior Alterations
Residential High Rises Under 80 feet
Commercial Buildings Under 80 feet
Business and Mercantile Projects Less than 150,000 square feet
Small Project and Self-Certification Program Projects
Standard Plan Review requires submittal of architectural plans to the City for approval via the electronic plan submittal process, E-Plan, and may require up to 13 departmental reviews including architecture, plumbing, geotechnical, stormwater management, and fire prevention review depending on scope of work.
External reviews may also be required including approval by the Chicago Department of Transportation, and all projects must receive Zoning approval by the Chicago Department of Planning and Development prior to submittal to the DOB for building permit review.
Once submitted via E-Plan, each project is assigned to a departmental Project Manager who facilitates all technical reviews and issues required permits. The Project Manager serves as a single point of contact at DOB throughout the review and resubmittal process.
Step One: Create Application and Upload Plans
In order to submit, an application must be created through the DOB website. After this initial submittal is completed, an E-Plan invitation will be emailed with instructions for uploading drawings (PDF or DWF form) and supplementary forms to the City. Applications must be filed by either the architect or expeditor.
Step Two: Prescreen and Plan Reviews
The Project Manager assigned by the DOB completes the prescreen process insuring that all documents are complete, all electronic seals are present, and that there are no outstanding violations or stop work orders for the project address. Once verified, plans are routed to the examiners for review, and a corrections report is issued and emailed to the Architect of Record after all initial reviews have been completed.
Step Three: Plan Corrections
After initial plan review has been completed, a Notification of Corrections Report including markups is emailed to the Architect of Record. Corrections can be submitted via Certified Plan Corrections (CPC) for all disciplines except Geotechnical and Stormwater Reviews. Completed corrections are uploaded to the E-Plan system with all revisions initialed.
Step Four: Final Review
The assigned Project Manager conducts a Final Review once corrections are submitted to verify that documents are complete and any existing building violations have been remediated.
Step Five: Permit Fee and Certificate
After paying the permit fee balance, the Building Permit is ready for issuance and can be printed at the DOB or online.
Step Six: Approved Plans and Inspections
Approval plans must be printed and posted at the job site along with the permit certificate once all fees have been paid.
You can review the Standard Plan Review Flow Chart for further detail on the City of Chicago website.
Developer Services Program
The City of Chicago Department of Building's Developer Services process is designed for addressing the needs of complex construction projects and is mandatory for a variety of projects, including buildings over 80 feet, schools with more than 60,000 square feet, and Business and Mercantile uses with more than 150,000 square feet of space. As part of a Developer Services submission, construction plans are reviewed by a third party consultant reviewer assigned by the City and the process is negotiated through a single point of contact at the DOB assigned as Project Administrator.
The assigned Project Administrator facilitates all plan reviews, however unlike SPR, reviews are completed by a third-party plan review firm. This review is at an additional cost to the building permit fees.
Projects that meet the following criteria are required to use the Developer Services Program:
Building greater than 80 feet tall
Business and Mercantile projects greater than 150,000 square feet
Residential projects with more than 50 dwelling units
Gut rehab projects with 50 units or more
School projects greater than 60,000 square feet
Projects that require two levels of basement or deeper, and in addition use Earth Retention Systems
The permitting process is similar, though not identical, to Standard Plan Review.
Step One: General Information and Preliminary Meeting
All projects must be submitted via appointment - appointments are scheduled by filing the appointment request form. Once submitted, the DOB Project Administrator will initiate the E-Plan submittal process.
Step Two: Prescreen Review
The assigned Project Administrator will conduct a prescreening and confirm that all necessary items - detailed on the Developer Services workflow - are complete.
Step Three: Upload to E-Plan
Before uploading all of the completed plans and applications, the Department of Buildings requires payment of 50% of the building permit fee and 100% of the Developer Services fee amounts. Once paid, plans can be uploaded electronically.
Step Four: Plan Reviews
During this step, the technical plan reviews will be conducted. A Notification of Corrections report will then be emailed to the Architect of Record once initial reviews have been completed. Code variances, requested through the Building Board of Appeals, can be applied for at time of corrections issued.
Step Five: Plan Corrections
At this point, the Architect of Record reviews plan corrections, amends the drawings, and resubmits revisions to the E-Plan system. If needed, two corrections mediation meetings are allowed per project.
Step Six: Final Review by Project Administrator
The Project Administrator will verify that documents are complete, that technical plan reviews have been approved by Plan Examiners, and that existing building violations are addressed before the building permit can be issued.
Step Seven: Permit Fee and Approved Plans
After final approval, all outstanding fees must be paid to the Department of Revenue window and all approved documents can be downloaded from the E-Plan system.
Direct Developer Services
Introduced in 2016, the Direct Developer Services program streamlines the permitting process for large new developments and other complex projects. Burnham Nationwide is proud to have piloted the program during the permit process for Studio Gang's Vista Tower and we continue to utilize the process when expediting new construction skyscrapers and other large-scale developments.
Direct Developer Services further reduces the time required by Department staff to review plans submitted by allowing the project team to select the third-party plan reviewer via a bidding process. Once a consultant has been selected, plans are then reviewed by the third-party for structural compliance and other required approvals as negotiated between the project team, the assigned Project Administrator, and the DOB.
Our Chicago division's expertise in the DOB's various processes can be applied to a variety of projects and we are happy to answer questions on the specifics of the Chicago plan reviews as well as provide expediting services for projects of all scopes.