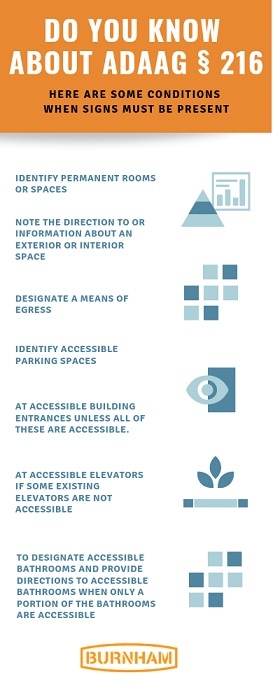 Cushing and Burnham Nationwide Partner to Answer Your ADA Signage Questions
For 90 years, Cushing has been a Chicago printer with an international reach, first opening as a blueprint shop in 1929. In the decades following, the business grew to include film conversion, on-site printing (the first manned center in Chicago), color services, CAD plotting, and now a full suite of printing services.
Cushing retains its close ties to the architecture and construction community in the present day by offering wall graphics, construction fence wraps, and building signage. In recent years, they have added wayfinding and directional signage to their offerings.
Burnham's Code Team often consults on Americans with Disabilities Act (ADA)-compliant signage, including exit and wayfaring signage, and we frequently see violations during our code compliance reviews. We're excited to partner with Cushing, to address some of the most common signage mistakes in this post as well as in upcoming presentations and collaborations.
In the coming weeks, we'll delve into frequently asked questions customers and prospects ask of both our companies. Additional blog topics will include egress communications and informational versus directional signage.